Races of Eberron. This document presents versions of several races from the D&D world of Eberron: changelings, kalashtar, shifters, and warforged. For more . Races of Eberron (D&D manual).jpg. Genre, Role-playing game. Publisher, Wizards of the Coast. Publication date. April Media type, Print. ISBN · 0- Races of Eberron is a supplement to the edition of the Dungeons & Dragons role-playing. Complete list of all D&D spells, rulebooks, feats, classes and more!.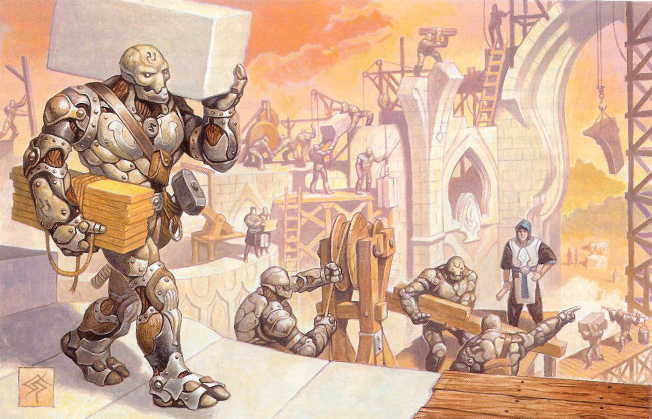 | | |
| --- | --- |
| Author: | Douzil Voodoolrajas |
| Country: | Liechtenstein |
| Language: | English (Spanish) |
| Genre: | Marketing |
| Published (Last): | 23 December 2010 |
| Pages: | 431 |
| PDF File Size: | 3.69 Mb |
| ePub File Size: | 17.20 Mb |
| ISBN: | 847-7-92476-412-5 |
| Downloads: | 38140 |
| Price: | Free* [*Free Regsitration Required] |
| Uploader: | Nigore |
Be civil to one another – Unacceptable behavior includes name calling, taunting, baiting, flaming, etc. The intent is for everyone to act as civil adults.
Races of Eberron
Respect the opinions of others – Each table is unique, just because someone plays differently to you it does not make them wrong. You don't have to agree with them, v&d you also don't have to argue or harass them about it. Do not suggest ways for such material to be obtained. Use clear, concise title names – Titles must be clear, concise, and not worded in a misleading fashion.
Do not post memes – Memes should not be posted unless used to contribute to a preexisting discussion.
Limit external links – Links to external sites such as blogs, storefronts, or Kickstarters should be limited to one per two weeks. This limit is a limit on a per-site basis, not a per user or. Memes and images in their respective weekly threads are exempt from this rule as well.
Homebrew must eherron tagged – Homebrew submissions should begin with the [Homebrew] tag or contain the [Homebrew] flair, and you may only post one new homebrew thread per day.
Races of Eberron
Races of Eberron sgiz. What are everyone's thoughts on these races? I would love tables like that for all races. I'd still like them to change it to allow some sort of mechanic for them to gain the benefits of magical armor at the cost of the overall AC calculation.
I get that it's kinda the defining feature of the race, but I just think its a bad thing for the eebrron overall to negate if many options with a single racial ability. The changeling clothes don't change when they shape change so that limits it a ebberron. At the very least you'd need to carry around some extra clothes. Still need the disguise kit for all that.
And probably forgery kit for whatever other shenanigans you're up to. It's comparable to a Warlock getting infinite Disguise Self at level 2 via Invocation Not bad for their single most defining feature.
Beasthide Shifters are going to become the go-to for Barbarians. Con bonus plus temp HP that gets Rage damage mitigation is pretty great.
At lower lvls you can use your Shifting to supplement your lower number of Rages, then when you can Rage in most combats you racess use your Shifting to make your Rage even more powerful. The off AC is gravy and most Barbarians take Athletics proficiency anyway.
Thank you – I agree with you on the warforged. I think I agree across the board, though the weirdness inherent in some of the shifter stuff I actually like.
Races of Eberron – D&D Wiki
This is the first v&d 3. Changeling, I think, is in a pretty good spot, though unsettling visage seems like more of a doppelganger thing. I think it could be removed entirely and then changeling would be good from a mechanical point of view. Both have their eberroh benefits, one being real, but one providing clothes to match. Agreed here as well. In fact, I think old Changeling needed a little extra, and am glad to see some eberron that in this UA. Personally, I'd be happy dropping Unsettling Visage and the limitation on the tool use.
Just give them one free proficiency to help them flesh out whatever disguises they frequently resort rades. I see what they're trying to do thematically here, but it breaks immersion a little when "Bob the Thief" walks in from the other room every time there's a locked chest, then disappears mid-dungeon. It's more sitcommy than the theme they're trying for here.
Well, it doesn't have to be that way. As far as I'm aware, it doesn't necessarily have to be a secondary persona. These rules support Option 3, but exclude the other possibilities. I'd rather they just have a free tool. If that's too much, give two less-powerful artisan tools to help with various disguises rather than one Expertise tool that's almost certain to be lockpicks. Huh, I found wildhunt shifters to be very underwhelming. Do you make a lot of perception checks in combat?
Looking for Invisible casters or hiding Rogues mostly. But, getting advantage on d&x Wisdom checks while shifted is pretty great. Need to wrap up a social encounter, shift for advantage on Insight. Racces to control a mount, shift for advantage on Animal Handling. That guy you Racs got more than 60 feet away, shift for advantage on Survival and track him down.
Its probably a bit much to get all Wisdom checks with advantage. Getting Perception and Survival at advantage would still be good and make a bit more sense. Those seem to be very niche and uncommon situations. And I doubt shifting is going to be your best reaction in any social situation considering you get way more bestial when you do. That still doesn't seem to be stronger than a bonus action attack or better ac and more temp hp to me.
Getting free advantage for a minute every d&f rest on all Wisdom checks is too niche? With Perception being considered the best skill to have proficiency in, you have free proficiency and eebrron. It's a very strong ability.
Combined with their Mark the Scent and bonus skill, and Wildhunt Shifters have the strongest suite of abilities out of the 3.
Not by much, but by enough. But its a very limited bonus to perception and enemies that are constantly rehiding is a fairly rare situation.
Category:Races | Eberron Wiki | FANDOM powered by Wikia
Gotta disagree on the Warforged front. In addition to matching the AC anyone else gets by getting their maximum magical armor bonus at the minimum level they can get it, and in a no Strength required, weightless, wear-it-while-sleeping form, they also gets some of the best bits of elves and dwarves, excellent stat boosts, and solid additional racial traits, especially the Envoy.
And also, there are many levels where the other classes can't match their AC, even with full magic armor. They have to take something like Defense fighting style to do so while the WF gets to take whatever style they want, getting that one for freeor they simply can't match it at all like a 1st level heavy armor user. Give this a look if you're curious – I did a sorta breakdown of all the things warforged get. I agree Juggernaut and Skirmisher are undertuned, but only compared to Envoy – compared to any other race they still get as much or more including the base WF traits, Envoy just gets that little bit beyond.
But I agree I think thieves' tools is the only real issue with it. I do agree with you on the Changeling – it's less a power issue than a theme issue, just feels kinda dumb that they get to avoid taking any of the things you mention and dervive little benefit if they do. That and the WF were the only truly nuts things in there, I thought.
Why is the ability mathematically fine? If you can in good faith and confidence claim that a race is balanced under the assumption that it has to get LESS magic items than other members in the party, and that play behavior will actually reflect that, then I'm afraid you're deluded.
It's fine that they get more AC than other races because that's their thing. They are literal walking metal death machines, and a good, flavorful class feature to give them is armor that gives them generally higher AC than other races.
It's not such an advantage that it breaks bounded accuracy because it is possible for other races to match their AC with magical items. It's just enough that it makes you think "wow, Warforged are tough. If the class is unbalanced which I don't think it is, except maybe the Envoy subclass I'd rather it get tuned down in other areas.
There is no other racial feature that even approaches the effectiveness of that. Imagine if you wrote a race that read "You start with a Frostbrand weapon and at 11th it turns into a flametongue weapon" Would that be acceptable?
For real, at 1st level your AC is Not the armor equivalent of a Frostbrand. Putting paid to the notion that a frostbrand is "higher" than a flametongue, the comparison still stands for whatever you want to apply to it. The feature should not exist, it shouldn't be an AC thing.
That or give them advantage on Death Saving throws to indicate that they're physically more durable and can take a beating. Races are meant to be strong in different ways.
Right, and while these features lack direct analogues, they AREN'T as powerful as magical items because of the lack of those analogues. Even if we compare the 'strongest' of your example, gnome cunning, it does not remotely compare to a legendary item, the closest analogue being a Mantle of Spell Resistance, of which the feature is even WORSE than the item.
There are comparisons to be made, and in all of them, the warforged is an egregious mistake of race-to-race balancing and design. I think "Egregious" is a bit hyperbolic.
This higher AC is not going to upset delicate game balance and cause campaigns to come crashing to the ground.
I just don't see the reason for such declarations of game ending brokenness – AC is one of seven defenses, and one of dozens ebedron different mechanics at play.
If everyone had the same access to all of these things, then there'd be no reason to choose different races or classes.
Assuming you aren't ever allowed to gain the benefits of any other weapon? I feel that not being able to use other magic armor isn't a meaningful downside to getting high-quality magical armor for free.
That's a pretty niche situation. This is really only a downside if your DM is throwing tons of magical armor at the party and there's no one else to wear it. Even then it's not that bad, you just sell rces extra armor and put the money towards something the party needs like you would do if you didn't have any heavy armor users. I also think you're downplaying the impact of AC and HP loss.
For a lot of those levels HP loss through weapon attacks is the main threat you are facing.